This design's grid of surface squares offers more than meets the eye. You can spin webs or weave nets with this random yet consistent over/under pattern that really stands alone within our collection.
Free Shipping on Orders $40+
Designed and Made in Portland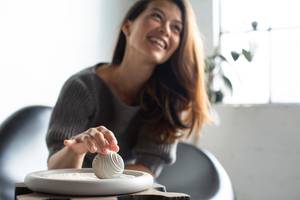 Each sphere we offer is hand cast in concrete and pigmented by our small team of talented artists. We take delight in the subtle variations resulting from each reproduction. Expect each piece to have unique characteristics in surface color and saturation that may differ slightly from the images above. On close inspection you will find parting lines from the mold seams, a small sanded area where the spru once was, and small surface bubbles inherent to concrete. These minor surface interruptions do not affect the texture transfer nor the solidity/integrity of the form. There's a Wabi Sabi, perfectly imperfect nature to these hand carved and hand processed objects. We scrutinize each piece for our standard of quality before it goes out the door.
Sand Spheres work best in fine crystalline sand- buy ours here.