In this WonderScape, we curated the spheres to represent the way that the ocean shifts, flows, and plays near the surface of the water. It includes the following:
12" Handmade wooden tray in Black
3 Cement spheres
16 oz. fine, crystalline sand
Sphere patterns: Waves, Cabbage, Bubbles
Free Shipping on Orders $40+
Designed and Made in Portland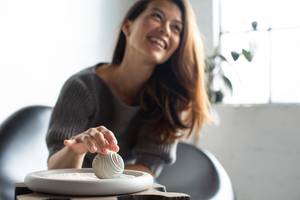 Bring wonder, play, and wellness into your every day with an Olander Earthworks Wonderscape. Our customers love using our Wonderscape at home, at work, or in therapy as a tool to create grounding, peace, and flow. Roll, press, and play your way to well-being with an array of handcrafted concrete spheres and fine sand, all held by an artisan-made wooden tray.
Our Monochrome collection features a clean, minimalist colorway that blends beautifully into any setting.